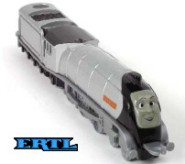 Spencer
Number: None
First Release: 2003
Spencer is a sleek private engine belonging to the Duke and Duchess of Boxford.
During his first visit to Sodor, Spencer took the Duke and Duchess of Boxford on a trip around Sodor, but ignored Gordon's warnings about taking on water and thus ran out - Spencer attributed the incident to a leaky tank.
Upon his next visit, Spencer challenged Edward to a race and maintained a lead for the majority of the race, but vainly fell asleep while the Duke and Duchess stopped to take photos and narrowly lost to Edward after he got onto the summer-house branch line first.
Models
Gallery